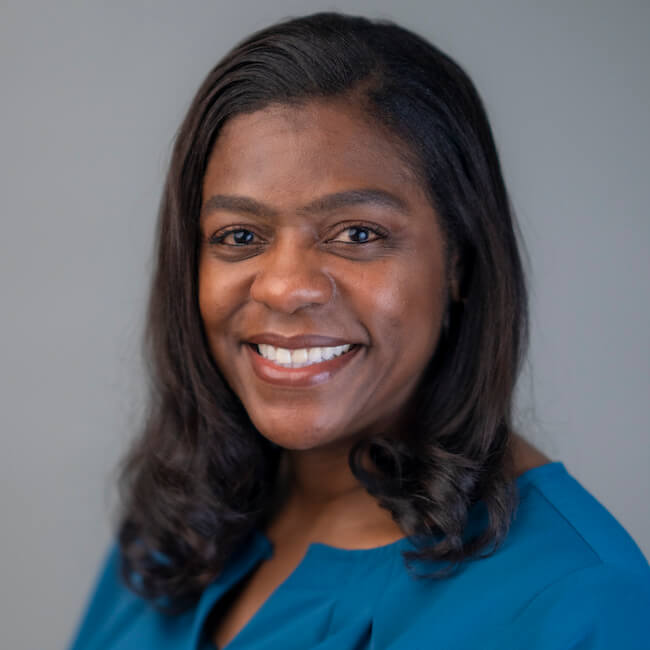 Clinical Nurse III
Endoscopy
Duke Regional Hospital
Duke Regional Hospital Auxiliary Award for Excellence in Nursing Practice
Minda has worked in endoscopy at Duke Regional Hospital since 2004 – and her compassion, coupled with her competence, gives the staff there the confidence that they are going to have a great day!  Her empathy with the patients and their families is one of her strongest qualities.  She calls patients before their procedures, to review the prep and pre-anesthesia with them, and she advocates for them.  For example, when a patient was anxious, she was able to relax the patient and speak to the provider about ways to improve the sedation.  Later, the patient said:  "I am coming back here for all future procedures, as I was more than a number; I was respected and cared for with no pain."
INTEGRITY
This leader displays a strong work ethic in which she is dedicated to the goals of the team and our patients.  She encourages us to grow, develop and learn by making assignments that give us learning experiences, and maintaining open dialogue between all of the staff.  This candidate remains a sound resource for policies and procedures, as we know if we have a question she will either have the answer or know where to find the answer.  She embodies honesty and integrity in any situation and continuously holds herself accountable.  She reinforces patient safety with accountability and constructive feedback, without finger-pointing.  She performs chart audits to ensure practices are followed properly, coding procedures for accuracy; and she brings this feedback to the team, management and enters them into the JCAHO portal.  She delegates tasks appropriately, according to their scope of practice, and in activities on the unit.  She holds herself to the same high standards that she expects from her peers.
EXCELLENCE
She is continuously looking for ways to positively impact patient experiences and the community.  She calls patients before their procedures to help prevent inadequate preps and to support safety regarding patient medications, history and social situations.  This patient-centered care is beneficial and gets patients involved in their care.
She strives for excellent workflow so staff can stay on schedule, which is valuable for finances, overtime and satisfaction.  She thinks several steps ahead for cases, so that she can adjust the schedule to address gaps, to work in hospitalized patients or to move up patients for the next day.  This is paramount to budgeting and Physician satisfaction.  She is responsible for monthly chart audits including scope numbers, which is very important for chain of use relative to infection monitoring; accurate documentation of consents for the procedure; and correct charting for sedation medicines (correctly dated and timed), IV insertion (completed), Time-Outs prior to procedure, post-procedure debriefings to review specimens collected, length of procedure, and procedure name for accuracy related to "hem control" vs "ablation" or surveillance colonoscopy versus low-risk colonoscopy.  These audits are important and reviewed at monthly staff meetings for quality improvement in patient care and charting.
INNOVATION
This nominee is always seeking opportunities, classes and seminars for us to attend to expand our knowledge and communication skills.  She naturally and comfortably uses words that work, RELATE and managing up her colleagues.  She prioritizes what is valuable to patients, gastroenterologists, patient needs and staff.  She works to help patients get the procedure done earlier if discharge is pending and sorts out the priority of timing for other inpatient procedures or colonoscopy.  She handles many urgent patient needs, sorting out the complicated moving parts of different offices, scheduling departments, language issues (particularly with our population of Spanish-, Arabic- and Chinese-speaking patients), patient comorbidities, and doctor's availability.
She was point person for the transition to our department doing pre-procedure calls to patients who are receiving monitored anesthesia care (MAC) sedation.  She learned procedures and parameters, and assists patients in understanding the permitted/prohibited meds.
COLLABORATION
With scheduling of an endoscopy case, CRNA availability, OR time, procedural room availability can be challenging, as there are numerous moving parts and priorities.  However, she does this fluently.  We have confidence in her decisions in this fast-moving environment.  She works very effectively with scheduling, collaborating with staff in various patient care areas (floors, Intensive Care Unit, Emergency Department), other endoscopy centers and doctor's offices, to ensure patients' readiness for procedures, or to assist when patients check in at the wrong location, or should have been scheduled for a hospital-based endoscopy/colonoscopy, rather than at an independent ambulatory center.
CARING
She encourages growth of our staff, as she enjoys seeing them reach their goals, whether in education, certifications, personal life or advancing on the career ladder.  Always willing to offer assistance to her colleagues without prompting, and views the patients as ours.  She lives the DUHS values daily and exemplifies the behaviors of a seasoned nurse who truly cares for the nursing profession and the outcomes of our patients.  When I think of the term "Great Nurse," this person comes to mind, because I believe we have many good nurses but only a few who go that extra mile to be exceptional.  She kindly helps the staff take care of themselves by covering breaks and lunches.  She crafts the assignments well to help staff grow and perform their best.  Recently, she called me as I was on my way home from work to ask about the location of a patient's pair of glasses.  I wracked my brain, but didn't recall seeing the patient with them.  It bothered me, and I continued to double-check my thoughts; she later took the time to text me that the glasses were with the daughter in the lobby.  I was grateful that she took the time to give me relief and closure regarding this concern.
IMPACT STATEMENT
She is an engaging, considerate, optimistic, and modest individual.  She stands alongside us on the front lines, operating as a leader, educator, friend, advocate, and support system for her colleagues and for our patients.