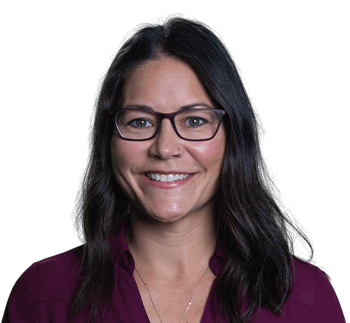 Clinical Nurse III
Intensive Care Unit
Duke Regional Hospital
Durham County Hospital Corporation Board of Trustees Award for Excellence in Nursing Practice

Congratulations to Duke Regional Hospital's 2021 Friends of Nursing Excellence Award Winners

Congratulations to our Graduates who have been selected
Gillian is a tireless nurse who has guided her team through adversities and is always looking for areas of improvement. She delivers compassionate care to patients and families during the pandemic and has successfully created multiple innovations that ensured excellent care was delivered to patients at all times. She took on the significant task of reviewing all rapid response events and code blues in the hospital, searching for patterns and opportunities for improvement. Her work and upbeat demeanor have helped hold her team to a high standard of integrity and excellence. Gillian is an outstanding role model, who truly lives by Duke's values.
INTEGRITY
This nurse works hard to ensure that our unit and hospital are operating at their peak potential. As a Charge Nurse, CNIII and certified critical care nurse (CCRN), this nominee has taken on additional work to trend data, create more cohesive work environments, and deliver compassionate care to patients and their families, even in the face of a pandemic. This nurse has taken on the significant task of reviewing all rapids and code blues in our hospital. Her willingness to spend hours each month reviewing documentation from multiple sources, and auditing charts for emergencies is extremely admirable. She is helping our hospital gain perspective related to successes surrounding our team response to emergencies, as well as helping to identify potential patterns that could point to opportunities for improvement. Her work holds our institution to a high standard of integrity and excellence.
EXCELLENCE
This nurse is an exemplar of excellence. She has earned her Bachelor of Science in Nursing and has been recognized as a Certified Critical Care Nurse (CCRN) through the American Association of Critical-Care Nurses. She is seen as a mentor and "go-to" person in our unit and hospital. She works as a Primary Preceptor, Heart Nurse, Charge Nurse, and a member of our Rapid Response Team or Early Nursing Intervention Team. She functions as a mentor to many nurses and is always ready to lend a helping hand to her co-workers, and consistently picks up extra shifts. She has participated on the VALUES Committee in our unit, which is committed to improving the communication between the health care team and patients and their families. Her work on the VALUES committee, and advocacy as a Charge Nurse has been exceptional. She has worked hard to advocate for families and patients to be able to understand the new COVID visitor guidelines and to offer support and alternatives (such as the Jabber iPads).
INNOVATION
This nurse has proven herself to be incredibly creative during one of the most stressful times in health care, the COVID pandemic. Her first COVID innovation was to work with the Engineering Department, nursing leadership, and the medical team to create innovative tunnels in the walls of our ICU rooms to thread IV tubing through. This intervention allowed nurses to keep IV pumps and poles outside of COVID patient rooms, thus managing to titrate the patient's life support medication without being exposed to the virus with each titration. These tunnels allowed the IV tubing to be kept clean and off the floor, reducing the risk of the tubing cracking or infection exposure. The tunnels were fitted with rubber flaps that ensured there was no risk of airborne exposure outside of the rooms. This nurse's innovative idea helped ensure patients received important medication in a sterile fashion and reduced the exposure of the virus to her nursing colleagues.
COLLABORATION
This nurse functions as part of the Rapid Response Team (RRT), both as ICU Charge Nurse, as well as a member of the Early Nursing Intervention Team (ENIT). As an RRT member and as an ENIT nurse, this nominee works hard to coordinate with interdisciplinary team members to prevent patient decompensation early. She evaluates patients who are flagged as concerns for decompensation by the med-surg floor nursing team, and when a patient is found to be high risk, she will coordinate between the nursing team and medical team — both on the floor and in the ICU — to ensure the patient receives appropriate care quickly. Her ability to facilitate collaboration with all members of the health care team in an effort to expedite the patient's needs is a hallmark to this ENIT role, and something this nominee excels at.
CARING
The nominee was caring for a patient who was nearing the end of life and was breathing uneasily. She asked the physician to please re-evaluate the patient; upon doing so, the physician immediately re-addressed the goals of care with the family. This nurse's concern and advocacy demonstrates Swanson's Theory of Caring by the nurse's intuition and "knowing" how uncomfortable the patient felt. She was present with the family and listened to their concerns, thereby demonstrating "being-with." She "maintained the belief" that there was a way to meet their needs and help them achieve their goals. She advocated by reaching out to the physician to hold a goals of care discussion, thus "doing." And finally, getting the health care team together to be able to "enable and inform" the patient and the family about options available near end of life made it possible for the patient and family member to find peace and understanding in a plan that matched their desires and wishes.
IMPACT STATEMENT
This nurse's dedication to excellence cannot be overstated — she continues to grow and take on new responsibilities as a leader, earning her CNIII for her work in creating a more collaborative work environment between units; researching emergency response outcomes and looking for opportunities for improvement; and creating an innovative nursing workflow during the pandemic. She is an exceptionally compassionate advocate for patients and their families. She is an exceptional individual and an asset to our profession!