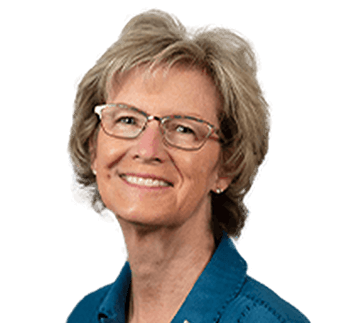 Chief of Staff to the Executive Vice President
Co-Chair, Patient Education Governance Council
Co-Chair, Universal Flu Vaccination & COVID-19 Vaccination Planning Work Groups
Duke University Health System
Norma L. Harris Award for Excellence in Nursing Practice

Congratulations to our students and alumni who are 2021 Friends of Nursing Excellence Award Winners
With over 40 years of experience, Gail has served as a leader, patient advocate, policy maker, and a pioneer in patient safety and quality. She has attained and maintained a specialty certification as a Certified Professional in Patient Safety, and used her nursing experience and passion for patient safety to become a respected health care leader at the local, regional, and national level. Gail has set the precedent for patient care and safety that is still followed and modeled after today. Gail is an innovator, a true trailblazer, who has led the way for many!
INTEGRITY
Integrity and respect are often earned from accepting stretch goals that others may select to pass. Frequently, this nursing leader is called upon to lead special programs that have a significant impact on the quality of care and the work environment for staff. The leader must balance patient safety, patient satisfaction, and employee satisfaction against the financial impact. This work aligns with her strong work ethic and moral values, thus leading to supporting outstanding care for her patients, their loved ones and each other. This became evident through numerous examples during her role as the Patient Safety Officer and Accreditation Director. Decisions to support the best patient care may have challenged prior practices or revealed opportunities to educate, communicate, and hold each other accountable for new practices following root cause analysis investigations. In her leadership role, honesty and integrity are critical to manage sensitive information discussed in meetings or brought to her attention.
EXCELLENCE
This thoughtful leader started her career in the critical care setting. A natural teacher, she became a successful clinical nurse educator, ensuring new nurses were competent in their practice and challenging them to reach higher levels of success. Later, her clinical and leadership expertise were valuable assets to managing the accreditation and patient safety activities for the organization. Working in formal leadership roles, she had far-reaching influence within and beyond the organization. The National Patient Safety Foundation (NPSF) accepted her into a small class of Patient Safety Fellows, leading the implementation of educational programs such as Just Culture, Safe Choices and TeamSTEPPS for the hospital. One long-lasting impact of the knowledge-sharing opportunity this nurse started is the annual patient safety and quality conference, currently in its 15th year, which hosts national speakers, and local improvement projects in poster and oral presentations. The conference draws more than 600 attendees from the health system with over 150 poster presentation abstracts each year.
INNOVATION
This nurse recognized and acted upon the need to communicate to all disciplines providing care to the patient. Always advocating for the nurses' role, while respecting the value of each other member of the health care team, she championed many improvement projects, leading the organization to safer practices. Early in her current role, she determined gaps existed in providing consistent patient education materials. This forward-thinking nurse, committed to the shared governance-nursing model, called upon other health system nursing and health professions leaders to create the health system Patient Education Governance Council. Her passion for ensuring the best information and educational assets for patients and their loved ones continues 11 years later, as she co-chairs the monthly council's work in promoting health literacy and appropriate resources across the system. To date, the council has approved over 500 patient education resources for our entities, assuring the use of plain language to improve readability, provide consistent information across disciplines and settings, and ensure materials are available in multi-languages as appropriate.
COLLABORATION
Whether you are asking for historical perspective on a current issue, how to best present an idea or concern to a leader, or need someone to hear your perspective on the current challenges, you have the listening and caring ear of the nominee. She listens attentively, asks probing questions, and often responds with "I wonder what if …" or "that's an interesting perspective, tell me more…" or "from a nursing perspective, I would like more information…" This high-achieving nominee holds others to a high standard, as well. As a NPSF Patient Safety Fellows graduate, she was part of a subgroup that wrote the initial questions for the Certification of Professionals in Patient Safety exam. She continues to work with this national group testing new items and evaluating the value of the certification assessment tool. This national standard is one example of many institutional examples of the nominee starting processes that continue today, such as collaboration among similar roles within health system, successful implementation of employee flu vaccination blitz, accreditation readiness activities, and performance improvement and leadership management strategies.
CARING
Early in her current role, this nurse was charged with improving the percentage of employees getting the annual flu vaccine when vaccination was optional. This leader assembled a multidisciplinary team to drive the cultural changes to accomplish the goal. The aligned the goal of vaccinating large numbers of employees as part of the field-testing for emergency disaster preparedness, and developed the plans to vaccinate all employees working within a 24-hour period. Communication was critical to getting team members to understand the value their actions could have on reducing flu rates. Teams of nurses provided peer clinics to help co-workers get their vaccinations. Friendly competitions between units and entities promoted the forward movement toward the goal. The first "Flu Blitz" was a huge success, with widespread participation, supply chain management, communication and responsiveness of the employees. A few years later, this leader joined other leaders from the regional area to develop entity-specific plans to support having Flu Vaccine as a condition for employment.
IMPACT STATEMENT
A visionary leader who sees obstacles as opportunities for growth toward excellence through continuous learning.