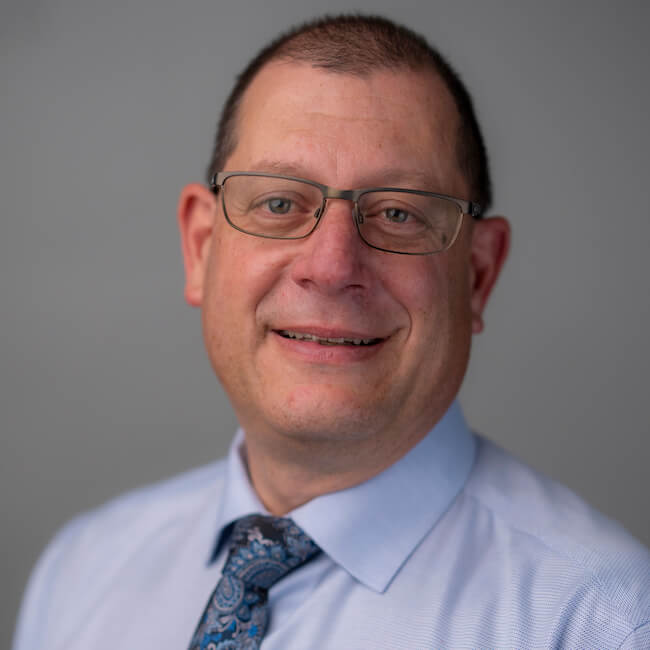 Vice President, Emergency Services
Associate Chief Nursing Officer, Patient Flow and Radiology
Duke University Hospital
Award for Excellence in Nursing Leadership
A nurse for more than 34 years, Frank has spent 30-plus years working with Emergency Services at Duke, beginning as a Staff Nurse, and now serving as Vice President.  In 1997, he received the Friends of Nursing Award for Excellence in Emergency/Trauma Nursing.  He has led Emergency Services during significant events and challenges.  When the tragic crash of a Life Flight helicopter took the lives of three staff and a patient in 2017, Frank drove to the site and stayed until the remains were removed.  During the pandemic, he developed and executed plans to vaccinate tens of thousands of patients, employees and community members; created a 24/7 inpatient swab team; opened a 24/7 employee testing site; and set up a tent outside the ED to triage and isolate patients with respiratory symptoms.  And last year, Frank was out of town when a shooting occurred in the ED; he immediately drove back to debrief and support his staff.  No matter the situation, Frank steps up:  He is a servant leader.
INTEGRITY
Due to the nature of the environment, ED staff experience many adverse events.  This ED leader asked to be trained as an emotional support coach to possess the skills to support staff processing challenging circumstances.  Unfortunately, one Friday night, there was a terrifying event in the ED involving a shooting in one of the rooms where the staff was in harm's way, and still needed to care for the shooter, who did not survive.  At the time of the event, this leader was out of town, but after hearing about the incident immediately drove back to the hospital and started debriefing with staff.  He called every employee who worked, offering his support and any resources they needed, including additional time to process the event, arranging debriefs and being personally available to staff to discuss the event and concerns.  He provided tailored resources to staff closest to the scene.  He also worked closely with authorities in the investigation and senior leaders.
EXCELLENCE
This MSN-prepared nurse leader continuously promotes and advances the nursing profession in the health system and community.  This nurse leader has presented over 13 poster and podium presentations at various state and national conferences.  He holds a nurse executive advanced board certification and has received multiple awards for his impressive leadership, such as the Strength, Hope & Caring Award and the organization's excellence awards.  He is an active member of state and national associations such as NCNA, ENA, NCONL and AONL.  Beyond our organization, the nominee volunteers on the Board of Directors for Poe Center for Health Education, positively impacting the lives of North Carolina youth through health education.  In addition, as a Poe Finance and HR Committee Member, he created budgets, wrote policies and procedures, and provided support during the pandemic so children had help from this organization.  As a volunteer member of the AONL Advocacy Committee, he has represented nurses in Washington, D.C., on crucial public policy information relevant to nursing and health care, such as workforce development, and promoting the value of nursing.  He has spoken to state legislation about the pandemic, ED volumes, the importance of vaccinations, and the nursing workforce in our organization.
INNOVATION
During COVID, this leader collaborated with the Infection Prevention Team and Pharmacy and took it upon himself to develop a team of nurses to vaccinate nursing homes and churches throughout the county.  He worked directly with the leaders to create a process to vaccinate their patients and community members.  He drove multiple nurses and PPE and vaccine supplies to numerous sites.  He and his team vaccinated over 800 patients and returned three weeks later to give patients their second dose.
He also created a 24/7 inpatient swab team, a protocol to vaccinate inpatients, and opened several employee vaccination center sites, resulting in more than 12,000 employees receiving the vaccination.  During surges, he opened a 24/7 employee testing site in the hospital.  This leader also opened a tent outside the ED to triage and isolate patients with respiratory symptoms.
He also redesigned the ED workflow and opened an evaluation unit, which reduced the left without-being-seen rate in the ED from 5.5% to less than 2%, a streak that has lasted 4 years.
COLLABORATION
He implemented the first ED Patient and Family Advisory Council to improve the ED experience.  He co-chairs the system Workplace Violence Committee to improve staff safety, and the system Virtual Sitter Video Monitoring Committee to reduce patient falls.  He wrote a business case to create a paramedic role in the ED, which was approved and later expanded to Interventional Radiology suites.  He presented the outcomes of implementing the paramedic role and how Life Flight Critical Care Transport is utilized to support code events in the hospital setting at the 2022 Emergency Nurses Association conference.
He co-led a collaborative that brought nurse leaders from the regional EDs to discuss best practices, trends in the area, and opportunities in patient care.  As a result of this partnership, this leader implemented hallway beds with cardiac monitors in his organization and shared how he created a locked psychiatric unit in the ED to keep staff and patients safe.
This nurse leader was selected and participated in a weeklong Think Tank in Oregon, where he worked with engineers to design a portable all-in-one monitor for the ED with defibrillation, pacing and pressure waves capabilities.  His input helped create the Propaq Monitor, now used in EDs around the country.
CARING
Most inspiring attribute is his commitment to everyone.  One heartbreaking day, he received notification that his team's helicopter crashed in Eastern NC, including several crew members and a patient.  This leader accompanied the police to the crash site and worked closely with TSA and local officials to assess and manage the scene.  He provided information back to the DUHS executive team.  He identified his fallen Life Flight team members and stayed with them and the patient, so they would not be alone until it was time for EMS to take them away.  This leader becomes soft-spoken and tearful when describing that day, noting he would never get the picture out of his head.  He immediately grounded all air transport, spent several weeks debriefing and supporting staff, and went to each fallen team member's home to meet with their spouse and children.
This leader rounds on patients and monitors ED patient satisfaction scores.  He received feedback from the sickle cell population that they felt stereotyped for seeking pain medications.  He requested focus groups with the patients to understand their needs.  Based on feedback, he opened a day hospital, partnered with providers, and created a protocol for patients in crisis:  ED stabilizes them and sends them to a day hospital for treatment.
IMPACT STATEMENT
The list of impressive qualities about this nominee is endless, but one thing remains consistent:  this leader cares about his family, his team, and our patients and their loved ones.  No matter what situation this leader is in, he is the first to step up and, typically, the last to leave once the job is finally done.  His leadership skills go beyond nursing; he is a servant leader no matter where he is, because that is just who he is.