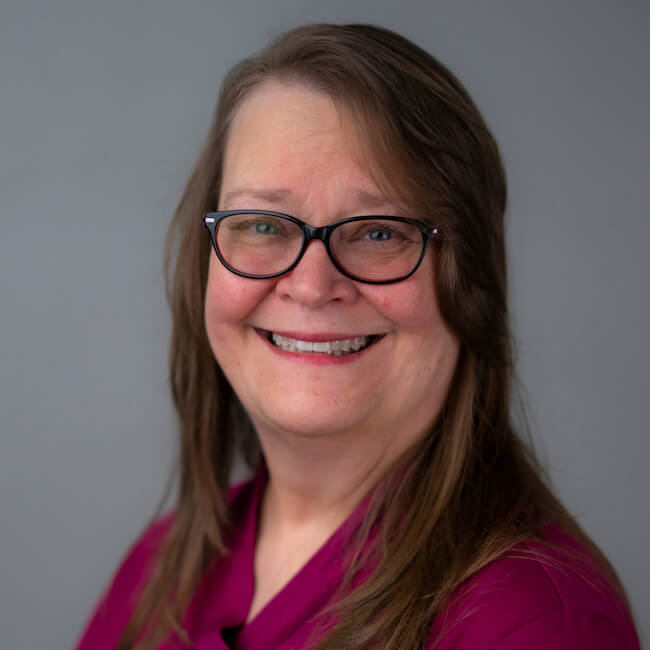 PhD, RN, CNS, FNP-BC, AOCNP
Clinical Nurse Scientist
Director of Nursing Research & Evidence-Based Practice
Duke University Health System
Oncology Nurse Practitioner
Cancer Center Symptom Management Clinic
Duke Raleigh Hospital
Associate Faculty
Duke Cancer Institute
Clinical Associate Faculty
Duke University School of Nursing
Nurse Research Mentor Award
As our health system's Clinical Nurse Scientist, Hutch Allen exemplifies the name of her award – Nurse Research Mentor.  Over her 42-year nursing career, she has made significant contributions to Nursing Research; and she is passionate about mentoring nurses and health care staff in clinical inquiry and implementation science, using evidence-based practice.  Her leadership and mentorship have led to the creation of new standards of practice.  At the 2004 Gala, Hutch received the Evelyn Morgan Award for Excellence in Oncology Nursing Practice.  More recently, she was named to the Great 100 Nurses of North Carolina; was recognized for Excellence in Medical Oncology Nursing by the Oncology Nursing Society; and received the Clinical Nurse Researcher Award from the Southern Nursing Research Society.
INTEGRITY
The nominee has made a significant impact on nursing research as the co-director for the Oncology Nursing Center of Excellence and her involvement in the Nursing Research and Evidence-Based Practice Department at Duke University Health System.  She exemplifies integrity, honesty and accountability in her daily work, through practical things, such as being super responsive to emails, to helping nurses and students through the intimidating Institutional Review Board (IRB) process.  She is always willing to help and go the extra mile to ensure nurses are able to complete nursing research and evidence-based practice (EBP) projects, while doing so in an ethical way.
EXCELLENCE
Through the nominee's work within the field of cognitive science in cancer survivors, she has worked with a team of scientists to update the Oncology Nursing Society's systematic review process, known as Putting Evidence into Practice.  She served as the Team Leader from initiation through the first review, and continues to participate in this important work.  As such, she has collaborated with the team on several publications and presentations to inform health care providers on the state of science regarding cognitive interventions aimed to prevent cognitive decline or maintain cognitive function in cancer survivors.
Since 2004, the nominee has published more than 30 peer-reviewed articles, of which she has been the first or senior author of 12.  Additionally, she has published several important non-peer reviewed articles.  Due to her expertise, she has been an invited author for numerous books, book chapters and international clinical practice guidelines.
INNOVATION
She has secured numerous grants to train staff in research roles through several pilot studies, including:  developing and implementing a two-week exercise intervention prior to treatment in men newly diagnosed with prostate cancer; implementing a transitional care program for pediatric oncology patients; and testing a Readmission Risk Assessment Tool for medical oncology patients.  Additionally, through this role, she mentors several Staff Nurses and Advanced Practice Providers to lead the system-wide Duke Nursing Research Council.
The nominee is an active member of the Duke Advancement of Nursing, Center of Excellence (DANCE) academic-practice partnership, serving as the co-director for the Nursing Research, EBP and Quality Improvement (QI) pillar.  Through her work on this pillar, she collaborates and mentors not only health-system nurses, but also students at the Duke University School of Nursing.  The partnership with the nominee and the school of nursing is invaluable, as she is able to mentor, assist, and guide students through the research and EBP/QI processes within the hospital, an often daunting task for students.  Additionally, she serves as a liaison through her membership in the Duke University School of Nursing's Center for Nursing Research.
COLLABORATION
In her 40-year career at Duke University Health System (DUHS), the nominee has led and collaborated with many research teams to conduct rigorous nursing research.  Her area of expertise lies with performing, analyzing and interpreting compensatory behavioral observations in the brain tumor population.  She has worked with multiple disciplines to explore the symptom cluster of fatigue, sleep, and cognitive impairment that she observed clinically while working with adult survivors of primary brain tumors.  Subsequently, her research has focused on understanding the impact of cognitive impairment on daily life in this patient population.
Findings have made a significant impact on clinical practice by demonstrating that those with low cognitive reserve report more symptom interference in their lives and have more objective cognitive impairment than age-, gender-, and education-matched healthy controls.  Recent funding obtained will permit the opportunity to explore the relationship of brain-derived neurotrophic factor (BDNF) and cognitive function over time during radiotherapy in adults newly diagnosed with brain cancer.
CARING
Not only does the nominee provide professional development and mentorship opportunities for nursing (and other disciplines), she does so in a caring, compassionate way.  Whereas she has a long track record of publishing and presenting, she shows genuine excitement for nurses when they have their first abstract accepted or manuscript published.  She embodies Swanson's Theory of Caring by being with nurses (mentoring them through research and projects), doing for (assisting with practical items, like getting projects through IRB and editing abstracts), enabling/informing (by her many seminars to improve nursing's knowledge of EBP and Research), and maintaining belief (by her consistent cheerleading of the nursing profession).
IMPACT STATEMENT
There is no one at DUHS who better embodies a Nurse Research Mentor.  Her tireless efforts to mentor nurses has moved the nursing profession forward and has had significant positive effects on the quality of patient care.