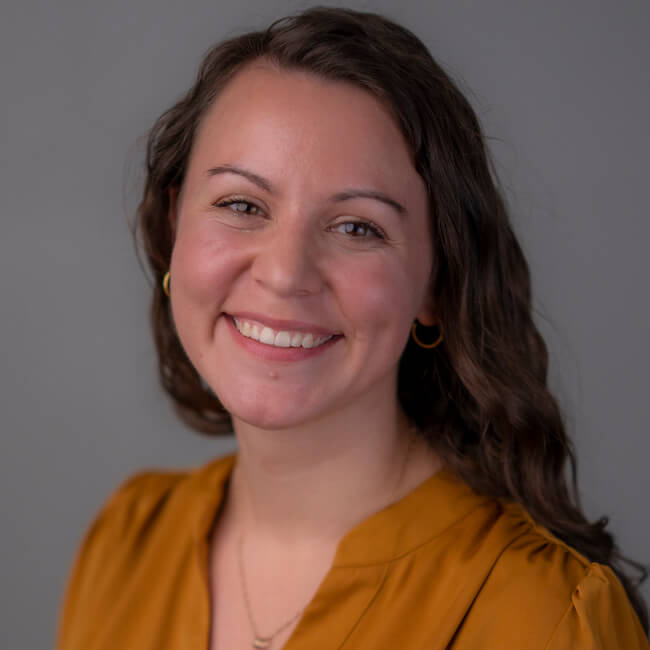 Clinical Nurse III
Cardiac Intensive Care Unit DMP 7 East
Duke University Hospital
Ernestine Davis & Edward L. Cole Award for Excellence in Coronary Care Unit Nursing
In 2018, Paige graduated with her BSN and began her nursing career at Duke University Hospital.  Now a CNIII, she just completed her master's degree and Family Nurse Practitioner certification.  On multiple occasions, Paige has witnessed cardiac arrests outside of work.  When running on the American Tobacco Trail, she came upon someone who was having chest, jaw and left arm pain.  She called 911 and guided EMS to their location, likely saving the person's life.  She also provides comic relief, when appropriate.  She put "Walking Time" lyrics to Semisonic's "Closing Time," and sings to patients to encourage ambulation.  When staffing over Christmas, she dressed up as Mrs. Claus, and with a colleague in a Santa suit, visited the children who were hospitalized.
INTEGRITY
This nominee exemplifies Duke's value of integrity in all aspects.  She has served as a stepdown, intensive care, and rapid response nurse during her tenure at Duke.  She utilizes these skills to maximize health outcomes for our patients, as well as in the community. She has been in the right place at the right time on a variety of instances to facilitate care to patients in need.
On multiple occasions, she has witnessed out-of-hospital cardiac arrests in locations to include Harris Teeter, Starbucks and at a wedding.  On all of these occasions she has aided EMS to save multiple lives and get patients to a higher level of care.  She is always ready and willing to jump into action despite location or lack of resources.  While running on the American Tobacco Trail, she came across someone who appeared to be in distress. Upon assessment, she learned that the person was having chest, jaw and left arm pain.  She called 911 to activate EMS and helped direct them to their location, miles into the trail.  The individual was found to be having a heart attack and was transported to a facility for intervention.  She exemplifies the Duke values and surpasses expectations.  She makes a difference in lives while at work and outside of work.
EXCELLENCE
She's currently applying for her CNIII and is in school pursuing an advanced degree in nursing as Family Nurse Practitioner.  She is a Charge Nurse, a Preceptor and an active member of the Patient Response Team.  She is certified as a critical care nurse (CCRN).  She is Co-Chair of the unit-based Healthy Work Environment committee, which the members fondly call "The Sunshine Committee."  She helps coordinate gatherings outside of work and also celebrations.  She's currently organizing our second annual Turkey Bowl, where the staff members working on Thanksgiving get to have a little fun bowling with a fake turkey (outside of the patient care area).  She came in on her day off to make breakfast for the unit, and she wore an apron and chef's hat.  This nurse makes sure that staff feel recognized in several ways.  She gathers nominations for our two monthly awards and sends out the winners' names to celebrate them.  She supports the team in any way possible and always with a positive attitude.  She really makes the unit a great place to work, and her positivity and "can do" attitude are infectious.
INNOVATION
This nurse has been instrumental in developing and teaching a simulation-based class for nurses new to our unit.  This class was developed through feedback received by this nurse, and she is always working to keep it current and applicable.  The staff have found this simulation class useful, as it helps them to feel less stressed when they are in those situations in real life.  She consistently analyzes our processes on the unit, and helps to identify ways to make them better.  She noticed a patient coming in for a procedure was missed by the weekend staff and thus not properly planned for.  She found us a calendar organizer to use and educated the other Charge Nurses on what to do for those type of situations, when a patient is planning on coming in, to prevent an issue coming up again.
COLLABORATION
There is never a task too small for this nurse to lend a helping hand whether it is to coordinate procedural interventions, help a visitor find what they're looking for, or collaborate with multidisciplinary service lines to support a patient.  Over the years, she has demonstrated countless times that she is willing and able to help with any task necessary to make a patient's visit more comfortable or to facilitate tasks. While she goes above and beyond to help, she always finds a way to make it fun for the patient and the staff.  For example, she made up a song to the tune of "Closing Time" by Semisonic.  She called it "Walking Time," and she sang to patients about the importance of early ambulation after surgery and participating with Physical Therapy services.  She has shared this song with many patients and staff.  Everyone gets a good laugh out of listening to her sing the song, because she is not the best singer, and she brings enjoyment to a task that can be very discouraging to the patients.  If she does not sing one of her original songs to the patients, she always plays music of the patient's choice while working with Physical Therapy.  If someone is walking and there isn't music playing, she will drop her other tasks to ensure that everyone has a positive experience while ambulating.  Her attention to this small detail always earns her a smile from the patient and the staff she works with, especially because she will, undoubtedly, include a small dance move.
CARING
The time that really stands out for me was when her patient was at end of life, and we planned to withdraw treatment that day.  The patient was fully aware of what was going on and was able to take part in all decision-making.  This nurse had so much compassion for the patient and family. She gave the patient a "spa day," which helped ease the patient and help the patient feel better.  She made sure the patient's daughters were able to spend time, sharing memories, laughing and crying while saying their goodbyes.  She made it a true celebration of the patient's life.  The patient told her that it had been the best day, and the patient was grateful that the patient's daughters would have this memory. She really went above and beyond to make the day special, and I will never forget what she did for this family at what was one of the hardest times in their lives.  She made it into something really special for them.
IMPACT STATEMENT
When you think of the ideal co-worker, this nurse meets every mark, from helping with day-to-day tasks, to providing comic relief on the tough days.  She embodies the Duke values and is a top-notch role model and educator.